We're in the midst of the biggest social and possibly economic challenge we've ever faced in modern times. For those of us who are older millennials or Gen X'ers (or even if you're somewhere in the middle like me), we're now facing the 3rd once-in-a-generation-event of our adult lives. If 9/11 and the Great Recession didn't cause enough anxiety, we are now facing the worst pandemic the world has seen in over 100 years.
We're far better equipped to survive this crisis than we were 10-20 years ago. Technology has progressed to a point that many of us are fortunate enough that we can do much if not most of our work from home. It has also never been more important than now to make sure you are always working from home efficiently. That said, some companies still lack the tools and processes to allow their workers to operate efficiently in a virtual-office setting. If this describes your firm, it's not too late to deploy the right tools and techniques to help your people get the job done...from home!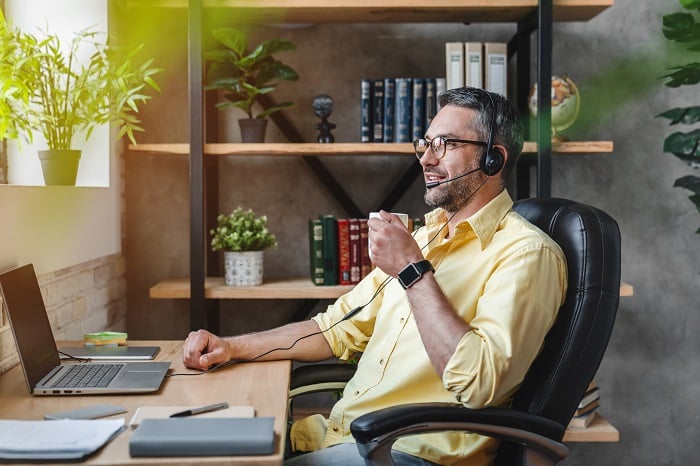 Fortunately, we had a chance to test our own toolkit during Seattle's Snowpocalypse of February of 2019, when we transformed into a virtual office for two weeks due to the impact of (yet another) once-in-a-generation snowstorm that crippled the city. We're a managed IT services firm and our clients count on us and our systems to be up and running 100% of the time so their people can get their jobs done. Shutting down for two weeks (or two months) is simply not an option!
We learned what works, what doesn't and how we needed to tweak the systems to ensure our own people could operate efficiently. Here's the toolkit that helped us survive Snowpocalypse, and will help us (and many of our clients) survive Covid-19 from the safety of their own homes:
| | |
| --- | --- |
| | Dropbox Business - We use Dropbox Business in the place of a file server. We can access and share our files from any device (PC, Mac, or mobile device) and we've implemented similar or superior security features to what we used to do with local file servers. |
| | RingCentral - We use RingCentral as our team's communications hub when we're operating as a virtual office. Aside from replacing our old phone system, RingCentral offers integrated instant messaging, faxing, Zoom online meetings, and team collaboration all in a single pane of glass. It works on all of our devices and it can be rolled out very quickly if the situation calls for it. |
| | Remote Desktop Services - Microsoft's Remote Desktop is a great solution for companies that have on-premise line of business applications (common for law firms, architecture firms, and almost any business with a sophisticated accounting package). Remote Desktop Services enables those applications to be used on home computers and tablets in a secure and efficient fashion. |
| | Azure AD Premium - Microsoft's Azure AD Premium subscription integrates directory services and user account control with single sign-on for many cloud-based applications. In practice, Azure AD can replace an old domain controller with a cloud-based authentication system that works with hundreds of modern cloud-based apps. Single-sign on means you only have to remember a single username and password for your computer, e-mail system and any compatible cloud apps - a big improvement in security and usability. Most of the tools in our cloud-based toolkit can be rolled out quickly - a shotgun deployment can happen in matter of a few days from when you say "go" to when the new systems are and running. For companies who have traditional on-premise IT systems, these tools can often be integrated with your existing servers as an add-on solution if you're not ready to replace your tried-and-true solution. |

We'll get through this trying situation by coming together as people always have during hard times. In the meantime, if you need some help keeping your business running remotely and want to help your team work efficiently from home, feel free to drop us a line - we'd love to talk about your IT!
- Kevin
| | |
| --- | --- |
| | A little about us: Dynamic Computing provides managed IT services, IT consulting, & cyber security services to small and mid-sized businesses in the greater Seattle area. We act as a complete IT solution for companies that don't have or need internal IT departments. Our clients typically range from 10 to 200 employees and we work with a variety of industries and clients based in the Seattle area. |
| | |
| --- | --- |
| About the author: Kevin Gemeroy is the President & CEO of Dynamic Computing, a company he founded while in Foster School of Business at the University of Washington. He's was recognized as a 40 under 40 honoree by the Puget Sound Business Journal in 2018 and as Washington State's Mr. Future Business Leader by FBLA in 1998. | |