Finding great IT support solutions isn't easy for any small business, especially when most are too small to have a fully staffed internal IT department with varied roles. As a result, many small to mid-sized businesses end up with a compromise solution—something that meets their needs and doesn't get in the way of achieving their business goals.
Here are four of the most common IT solutions we see small to mid-sized businesses in the Seattle area using:
The outsourced IT Guy
One of these support solutions usually involves hiring an independent contractor who works part-time for a handful of clients. He may have an assistant or two helping out, but at the end of the day, he's your guy and the buck stops with him. You depend on his knowledge and methods to meet your IT support needs.
The outsourced IT shop
Another one of these support solutions is usually superior to the outsourced IT guy and involves a more advanced IT group, typically with 5-10 employees. They often deliver more sophisticated services and have better methods for keeping track of work (for example, most all of them have ticketing systems). The challenge is that their focus is spread across their client base of anywhere from 10-50 clients. Yet they're not big enough to have fully differentiated departments (which means everyone is wearing more than one hat). So unless you're one of their top clients, you're not always their top priority.
The internal
IT
Guy
This is usually the next step up for a mid-sized firm after they've outgrown the outsourced IT guy or the IT shop. The solution involves hiring an internal employee who's either full or nearly full time and is responsible for IT support and management. While the buck still stops with him, the ultimate responsibility lives with whoever oversees his work and approves his budget requests. In order for this to be successful, the internal guy will also need multiple specialized vendors supporting his (or her) efforts, as one person just can't do everything needed to manage IT well.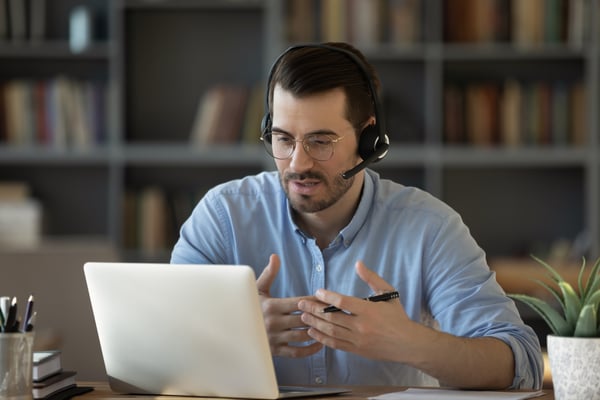 The Managed IT Service Provider
The managed IT services provider (commonly referred to as an MSP) is the top of the IT food chain with it comes to small to mid-sized business IT support. While many of the smaller outsourced providers call themselves MSPs, the difference is the approach. MSPs work primarily on a subscription revenue model where you pay a fixed monthly fee for a specific basket of IT services and a support level that's backed by an SLA (service level agreement).
Other services (for things like major projects) are billed either by the hour or on a fixed-fee basis, and the MSP is staffed and geared toward being a single solution that can meet all of the needs of its clients, which tend to be a bit larger and more operationally mature than those of the IT shop. True MSPs usually start at around 10 employees and scale up to dozens or even hundreds. Most operate in a single location but the larger ones may operate regionally or even nationally.
What works best for your business will largely depend on your needs and your budget.
When it comes to IT support solutions, you usually get what you pay for. The outsourced IT guy or IT shop are the cheapest options and usually cost somewhere between $75 and $150 per hour plus some sort of base fee to cover software subscriptions like remote access and anti-virus. How much you spend directly correlates to how much help you need, which unfortunately doesn't align your IT solution provider's revenue model (goal: to maximize revenue) with your business goals (goal: to minimize costs and maximize profits).
While the internal IT guy can be a great option for companies that need a lot of hands-on support, they are usually limited in their ability to do everything well. You also have the challenge of what level of IT guy you need. They're not all created equally (and they don't cost the same amount). They'll be asked to perform multiple tasks with multiple skill sets, including help desk, IT management, project work, engineering, c-level planning, and more. As a result, you're likely to get a mediocre result in many of these areas. Internal IT people costs start around $50,000/year (for a help-desk level employee) and can exceed $120,000 (for an IT Manager or Director level). Don't forget to add on employer side taxes and benefits (usually 20-30% more) plus software subscriptions for things you'll now have to license internally.
Most managed IT service providers in the United States charge $150 - $200/user/month as their core subscription fee. As a reference point, an internal IT guy who makes $60,000/year likely costs the company around $80,000 after all taxes and benefits are factored in. That cost doesn't include the necessary tools or outsourced services that are required for them to do the job well. As a result, the cost usually exceeds $100,000/year (and is often far higher).
That same amount could pay for managed IT services for a company of around 50 users, depending on complexity and a number of other factors. The MSP is likely to do a better job, as their goals align more closely with the organization's goals—the better the IT works, the happier the organization's employees are and the more money the MSP makes. The MSP can also be in multiple places at once, since they've got a whole team that can work together to solve your IT problems. Finally, those team members have differentiated roles—things like help desk tickets, project work, and major moves/changes are all done by different teams.
Next time you're in the market to re-evaluate your IT support solutions, you should consider evaluating a managed IT services firm. It might just solve all of your IT problems once and for all!
What solution do you use to manage and support your company's IT needs?
Drop us a line at hello@dyncomputing.com to start a conversation about the right solution for your company.
A little about us: Dynamic Computing provides managed IT services, IT support, IT consulting, & cyber security services to top performing small to mid-sized businesses in the greater Seattle area. We're focused on being the premier managed IT services firm in the Pacific Northwest, and we act as a complete IT solution for companies who don't have internal IT departments. Our clients typically range from 10 to 200 employees and we work primarily with professional services firms in the Puget Sound Region.
About the author: Kevin Gemeroy is the President & CEO of Dynamic Computing, a company he founded while in Business School at the University of Washington. He's was recognized as a 40 under 40 honoree by the Puget Sound Business Journal in 2018 and as Washington State's Mr. Future Business Leader by FBLA in 1998. He resides in Seattle, Washington.