GET

SERIOUS

You deserve focused, expert-managed IT services that meet your complex needs.
A Partner That Takes IT Seriously
It's time to partner with an IT services firm that truly understands your complex business and needs. Our services are designed for top-performing small to mid-sized businesses in the Pacific Northwest with 20+ employees and integrate three core offerings.
Managed IT Services
Make IT yours with comprehensive managed IT solutions tailored to your firm's unique model and goals.
IT Consulting
Take IT to the next level with a top-tier technology partner that goes deeper to deliver on your evolving business needs.
Cyber Security
Lock IT down to protect your business, data, and clients with security services engineered for complexity and compliance.
A Partner, Not a Provider
You're more than a ticket number. You deserve a partner that delivers concierge-level service at every touch. We act as an extension of your team and focus on fostering long-term client relationships and a personalized experience you won't get elsewhere. Our offering includes:
Senior in-house team of employees based in the Pacific Northwest
Strategic 30-day initial engagement where we dive deep into your business, industry and technology to understand your unique needs
Dedicated primary technician who knows your employees and processes inside and out
Supporting team of experts in every IT discipline to make sure you've always got the A-team at the ready
Proactive approach that believes in preventing tech issues before they become business-level problems
Expect More. Get More.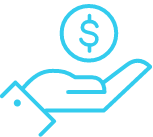 Predictable Pricing
Budget confidently with a fixed-fee subscription model that provides cost certainty.

White-Glove Service
Receive personal hands-on service from a dedicated primary technician.

Nothing but Experts
Get the right solution for every need from senior specialists across all areas of IT.

In-Depth Analysis
Get it right from the start via a foundational assessment that identifies and prioritizes needs.

Specialists in Compliance
Leverage deep expertise in PCI, HIPAA, CMMC, SOX, and other complex compliance standards.

Local Team
Connect with a 100% local team based in your backyard in the Pacific Northwest.

Clear Communication
Get fast responses and clear plans of action from a team that's always up to speed on your IT.

A Human Touch
Interact with real people who know you and your business, not just an automated ticketing system.
99.3%
Customer Satisfaction Rate
2.2 Minutes
Average Response Time
12+ Years
Average Client Partnership
IT for Companies With Standards
Satisfy complex requirements with a partner that designs comprehensive, compliant solutions for your unique needs. Tap into extensive experience across industries, including deep expertise in the following verticals.
Client Success Stories
"Dynamic Computing scaled their services to our growth, making sure we had exactly what we needed to work seamlessly as a team. We never had to question the IT side of our growth. They set us up for success."
Rick Tolleshaug | Senior Principal Architect | Milbrandt Architects
Get IT Right This Time
You deserve focused, expert-managed IT services that meet your complex needs.